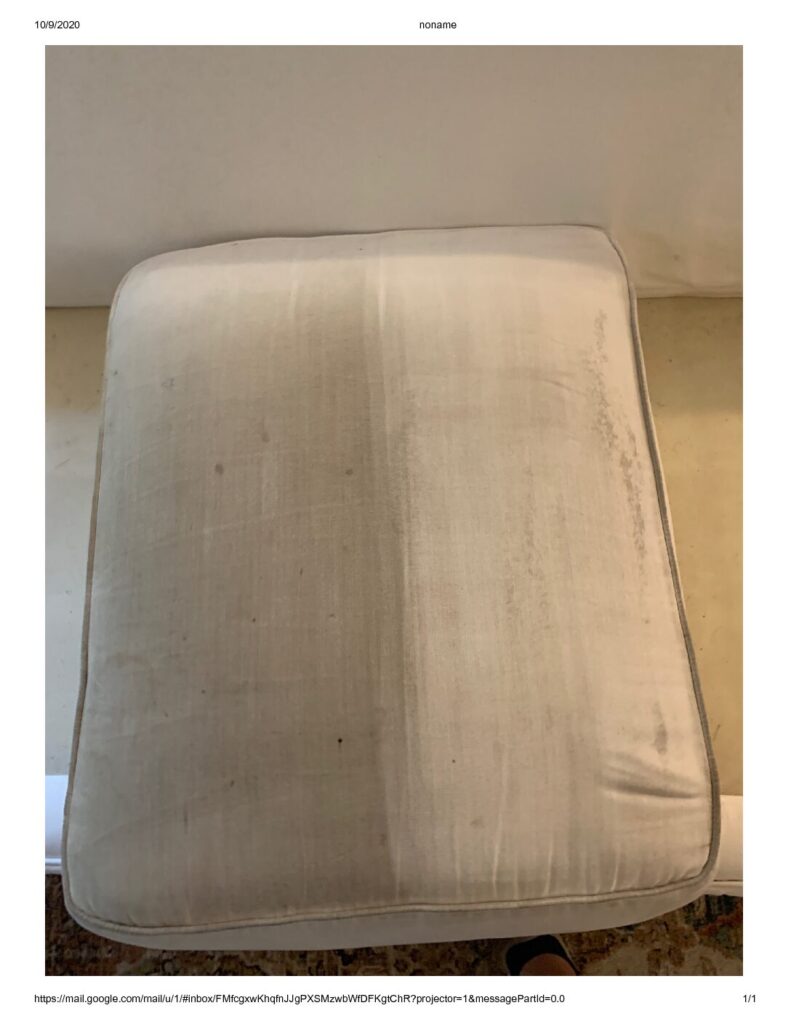 Since I formulated All-Spray earlier this year, my technicians are still making adjustments to having a lot less detergents on their shelves. Their biggest adjustment so far was using only one cleaner for six textiles, hence the name, All-Spray.
Last Friday my technician text me the picture above out of pure amazement at how All-Spray was performing on a cotton velvet sofa (forgive the pdf pic). We've all cleaned cotton velvet fibers, but have we cleaned a delicate fiber with the same pre-spray we used on grimy grout or restaurant carpet? Probably not.
All-Spray is molecularly structured to encapsulate then emulsify grease, grime and soil particulates without the use of soap or surfactants. All-Spray is a gamechanger for our industry. All-Spray is a non-toxic carpet pre-spray that thoroughly cleans tile, grout, wool, natural stone, cotton, marble, concrete, synthetic fibers and travertine without leaving a soapy residue that can re-soil soon after the cleaning. Another huge benefit: We no longer have to burn our lungs out with toxic ethers and solvents.
Another Success Story
Today the same technician called me to let me know that the grimy kitchen tile & grout he was cleaning looked brand new after he was done. The grout was so clean and white that the customer ask him for grout sealer! No up-selling required, she saw the floor and asked him to seal it.
So All-Spray not only cleans velvet and grout to like new condition, but it does it at a low pH of 8 while being 100% non-toxic and soap-free. Why is soap-free important? If you haven't been paying attention, there's a carpet cleaning franchise out there that offers no residue carpet cleaning and the message is sticking with our customers.
Soap and surfactants can re-soil carpet fibers even if they are thoroughly rinsed out, but who wants a two-day dry time? If your pre-spray contains surfactants, you are very likely leaving a soap residue that could cause your customer's carpet to re-soil faster than with a soap-free product. If it contains anionic surfactants, the chance is even greater. Anionic surfactants is like the gift that keeps giving; it suds forever.
All-Spray's Many Benefits
Destroys Grease & Grime
Will Not Resoil | 100% Soap-Free
HWE or VLM Pre-Spray
Cleans Greasy Restaurant Carpet
Cleans Grimy Tile & Grout
Cleans Stone, Marble, Travertine
Cleans Wool, Cotton, Jute
Cleans all Synthetic Fibers
Powerful Spotter & Degreaser
Other Great Features
100% Non-Toxic
100% Soap-Free
Near-Neutral 8 pH
No Rinse Needed
Won't Etch Metals
StainGuard-Safe
VOC-Safe
Pet-Safe
Odor-Free
Dye-Free
Necessity is the Mother of Invention
Many in our industry know that my carpet cleaning and chemical company are over 450 miles apart. I own and manage a carpet cleaning business in Tennessee, yet I live in the Chicagoland area. Keeping liability low is a high priority so I formulate products to match that need. From this need is where Ur-OUT and All-Spray originated.
While many of us are owner-operators, those who have technicians know that trusting a technician to flush urine out of a the third floor multimillion dollar home is just a bad idea. With Ur-OUT, you get just enough into the pad and leave it there to dry naturally. This eliminates the fear of flooding, mold or causing some crazy unknown hazard. The same with All-Spray
Two days ago we had a new technician that said his wand wasn't working right. It turns out one jet was clogged, really clogged. I asked him about the his last appointment and he said he did his best to extract using one jet. While it makes me cringe, thankfully All-Spray is an encapsulant without any soap so the carpet will not re-soil and if any soils remain they will dry-extract when vacuumed.
We need products that not only work effectively, but reduce our liability as much as possible. Both All-Spray and Ur-OUT do exactly that. If you are one of the few that hasn't tried any of our products, get a free desktop sample kit at the bottom of our "Shop" page, or just take the plunge and place an order and we'll ship it out ASAP.