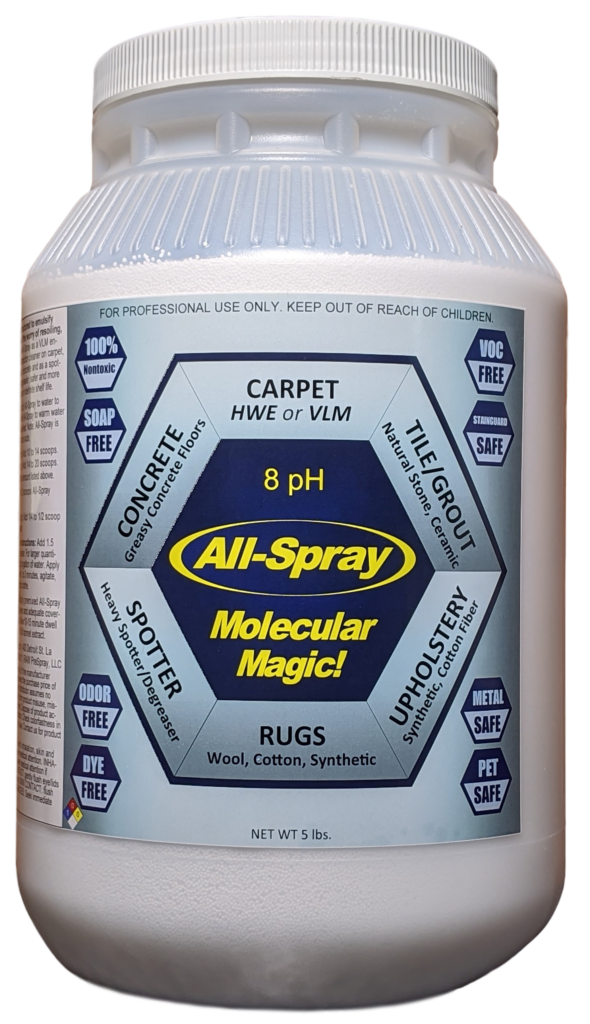 How High pH Cleaners Work
Most professional carpet cleaners judge a carpet prespray by its the pH. And for good reason, the pH level tells you the strength or weakness of the hydrogen content of a cleaner. Acids have a higher hydrogen content while bases (alkaline) have lower hydrogen content.
Most household soils are acidic, so they have a higher hydrogen content. Applying an alkaline detergent to the hydrogen rich soil allows the low hydrogen cleaner to break up the soil so surfactants and water softeners can help remove it from the substrate. The pH isn't the only way to remove soils from carpet, however. There are other methods that remove the soils from the substrate without using pH.
All-Spray Carpet PreSpray
Another method of removing soils from carpet, tile, stone, wool and cotton is by making water so wet that it has the viscosity of soap-water without the soap. All-Spray Molecular Magic contains special molecular structure that reduces the viscosity water to make it as wet as soap-water but without the soap!
Soap-free cleaners offer a unique benefit that many carpet cleaners might not realize. Soaps and surfactants, especially anionic surfactants, cannot be fully removed from the carpet fibers after the cleaning. Plus, many rinse agents also include surfactants. When a surfactant dries, it becomes gooey and sticky. Known as rapid re-soiling, this allows the carpet to resoil faster as soils stick to the surfactant residue.
Another problem with high pH carpet presprays is known as pH staining. This occurs when freshly cleaned carpet fibers are not chemically neutralized to near 7 pH. The high pH carpet fiber will now attract soils, dust and anything acidic like a magnet to help neutralize the high alkaline fibers. This causes rapid resoiling as well, and an unhappy customer that will likely not call you back.
All-Spray's molecular structure encapsulates soils down to the size of an ion! All-Spray does not require high pH to remove soils because it is such a powerful wetting agent that it bypasses the neutralization phase to release the soil without alkalinity.
All-Spray Offers More Benefits Than the Rest
All-Spray is so versatile, safe and effective that it is like the Perfect Pre-Spray. You can clean carpet, tile, stone, marble, nylon, acrylic, wool, polyester, cotton, travertine and concrete with One PreSpray! That's One PreSpray that cleans several surfaces! Here are benefits of using All-Spray Molecular Magic.
Safe & Soap-FREE
All-Spray is metal-safe, stainguard-safe, pet-safe, odor-free, dye-free, VOC-free, soap-free and 100% NonToxic. The best part of All-spray, however, is that your customer's carpet will stay cleaner, longer because it cannot rapid resoil, or pH stain like most presprays. This means your customer's carpet will stay cleaner, longer increasing your chance of earning a life-long customer.
Easier with Less Liability
All-Spray makes you and your technician's job so much easier with far less liability. Can you imagine if a technician put acid cleaner on a marble floor? It's not worth it! All-Spray makes training new lead technicians so much easier by cutting down all the different chemical training while making their job easy with less liability.
Spotter & Degreaser
Throw the expensive spotters away! Seriously, $26 dollars for a quart spotter? Please! Put that money towards your kid's education instead of someone else's. All-Spray is also a powerful spotter and degreaser when mixed at a higher concentration. And because it's powder, All-Spray lasts so much longer than liquids!
Versatile
No other carpet prespray can switch from cleaning a high-end wool rug to a greasy restaurant without changing your prespray! All-Spray is so versatile with such low liability that it will save you money in so many ways. Plus, All-Spray keeps your customer's carpet cleaner, longer, so it builds your customer-base and your reputation! You cannot lose with All-Spray Molecular Magic.
Take the Plunge! Buy it NOW! You Won't Regret it!
Still Not a Believer? Get a FREE Desktop Sample and See for Yourself!
No Fields Found.